Let Us Maximize Your Space
The type of pallet storage that best fits your needs is determined by a number of factors. A few of these factors include:
How much floor space is available in your facility for pallet storage?
How high are your ceilings?
What type of pallets do you use and what are the sizes?
How many different SKUs will be stored in the racks?
How often do you need to access the pallets?
What type of fork truck will you use to access the racks? What is the lift height of these fork trucks?
Now that you better understand your requirements, let's take a quick look at the common types of pallet storage and the advantages/disadvantages of each.
Drive-In Pallet Rack
Drive-in racking is a type of storage system that allows fork trucks to drive directly into a bay. Pallets rest on side rails rather than cross beams, which leaves the face of the bay open. The uprights are typically tied together at the top of the upright to add rigidity to the system. The only difference between drive-in and drive-through racks is whether there is an entrance at only one end (drive-in) or both ends (drive-through).
Push Back Pallet Rack
Using a forklift, pallets are pushed back on inclined rails mounted inside the racking structure. As a pallet is withdrawn, the pallet behind automatically slides to the front position.
Gravity Flow Rack
Gravity racking allows for easy sorting and distribution of commonly used SKUs, and is excellent for large volume SKU movement. Gravity flow rack also helps employees avoid injuries by keeping them further away from the forklifts that are operating on the input side of the aisle.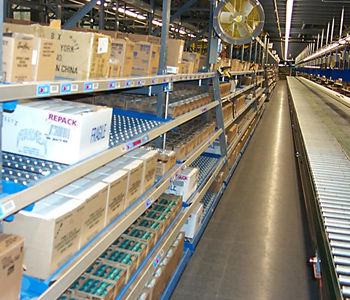 Cantilever Rack
Cantilever is ideal where 'open face' entry is needed. A free standing storage system with load bearing arms extending from vertical columns. This design allows for instant access to one piece or a full load and can be adapted for light to heavy loads.
Double Deep Rack
The most obvious advantage of double deep pallet rack is its potential to increase storage density and maximize warehouse space. The ability of double deep pallet rack to eliminate unneeded aisles means more warehouse space can be used for storage.
Pallet Rack
One of the most valuable benefits of pallet racking systems is its space-saving nature. The benefit of being able to easily access your pallets will help increase productivity and decrease frustration. Pallet racking provides easy access to inventory which will help your workers work better.
From pallet racks to drive-in racks, whatever your warehouse or distribution center needs in industrial racks, we can help you find the best solution at the best prices! Call us today 888-564-7978 or please use the form below to set up a free Operation Audit so we can start helping you maximize your efficiency.